Deacons Ministry
The role of the deacons' ministry is to assist the Pastor in caring for the membership. The deacons are tasked with advising the church and pastor concerning administrative manners. They are also in charge of the benevolence of the church.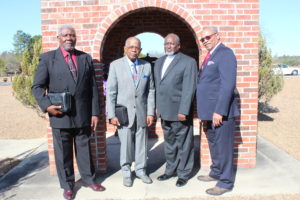 Deacons: Hobson Lane, Jr., Vernon Richardson, Arthur Whitted, Joseph Rozier II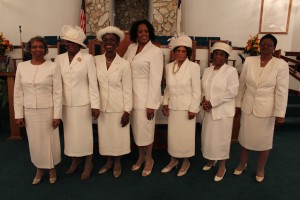 Deaconess: Carolyn Whitted, Maxine Rozier, Carolyn Lane, First Lady Tracie Culbreth, Betty Thompson, Louise Whitted & Brenda Regan
Trustee Ministry Trustees are responsible for maintaining and sustaining the house of God. It is their care of the church facilities that provides believers with a place to gather for worship, training and preparation in order to go out and evangelize to the world.
Trustees: William Whitted, Sherman Drye, Bobby Graham, Clyde Whitted, (Not Pictured: Patrick Drye)
Missionary Department We believe in every member of the church being involved in the mission of Jesus Christ. The missionary department is the outreach arm of the church. We strive to show the world the love of Jesus Christ by being a helping hand in times of need.
Senior Missionary President: Sis. Joyce Graham
Music Ministry Music is a very intricate part of our worship; Psalm 150 encourages us to praise God in the sanctuary using various instruments. Our music ministry reaches across the genres of Christian music, from traditional, to contemporary gospel, and sacred hymns. In our worship service we incorporate music that speaks to the spirit of all generations.
Minister of Music: Mr. Laconial Esters
Administrative Assistant The administrative assistant oversees all activities of the main church office, is responsible for answering phones, greeting visitors, assisting members of the church, and assisting the pastor. The administrative assistant is also responsible for printing weekly worship bulletins, sending and receiving church correspondence and coordinating with ministry leaders for special programs and events.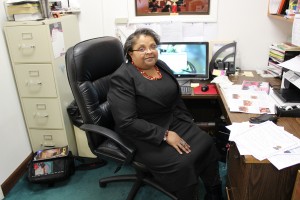 Admin Assistant: Ms. Catrenia Whitted
Assistant: Mrs. Carolyn Whitted
Church Clerk The clerk records and maintains church records, to include conference and membership records. The clerk also assists the church administrative assistant when needed and maintains the membership database.
Church Clerk: Ms. Helen White
Assistant: Mrs. Winnie Lesane
. .